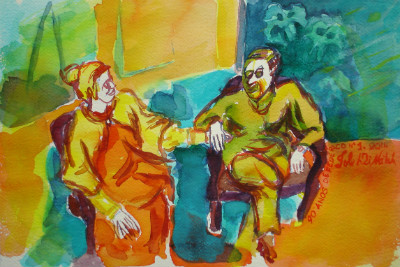 Iole Di Natale
90 anos de Federico no 1, 2014
aquarela sobre papel
A arte começou a fazer parte da vida de Iole Di Natale quando pequena, acompanhando os passos de seu pai. Dizia Iole que uma de suas lembranças de infância era se sentar no colo de seu ?papá? e folhear livros de arte. Italiana nascida em Vareze, Iole viveu intensamente e deixa para nós sua visão e compreensão da vida através de seus trabalhos.
Mudou-se para São Paulo (Brasil) em 1949 com apenas 8 anos de idade e por ali viveu com seus pais e quatro irmãos. Ingressou na faculdade de desenho e artes plásticas em 1961, iniciando sua vida profissional que perdurou até 2016, ano de seu falecimento. Foi professora emérita, artista plástica, gravadora, desenhista, aquarelista, memorialista, mãe para muitos e mestre para todos.
Iole era uma mulher visionária e idealizadora. Expos suas ideias através de sua obra por diversos países e idealizou projetos de grande porte, como o Ateliê Calcográfico Iole Di Natale e a ABA (Associação Brasileira de Aquarela e Arte sobre Papel). Suas cores e formas transmitem a mensagem de quem sempre viu a vida de maneira positiva, independente das intempéries.
Um de seus pilares de vida foi Federico Panizza, seu companheiro e entusiasta. É muito comum encontrar na obra de Iole o casal projetado, dos momentos mais íntimos até o cotidiano. Federico apoiou todo o trabalho de Iole e ao longo de mais de quatro décadas tornaram-se uno, ficando praticamente impossível não relacionar a obra de Iole com Federico e vice versa.
Organizada e observadora eximia, deixou além de seus desenhos, seus pensamentos escritos, complementando assim sua obra e nos guiando em como poder chegar o mais perto possível de sua psique.
Descrever Iole não é fácil, pois cada um interpreta sua obra conforme ela nos toca. Vale procurar e ver com seus próprios olhos cada trabalho e momento registrado da vida de Iole Di Natale para ter assim sua própria visão. Acredito que Iole sempre buscou não só eternizar suas ideias, mas demonstrar que todos têm ideais e mensagens a serem levadas adiante. Foi através da arte que Iole expressou sua mensagem e é através da arte que ela será eternizada.
The art became part of Iole Di Natale?s life when she was a young girl following her father?s steps. Iole used to say that she treasured a dear memory of her sitting on the lap of her ?papá" (Italian word for ?daddy?) when he was browsing through art books. Born in Vareze, Iole was an Italian woman that lived passionately and left her view and understanding of life through her work.
In 1949, when Iole was just 8 years old, she moved with her parents and brothers to São Paulo (Brazil). In 1961, she started studying drawing and plastic arts in college. In this same year, Iole also started her career, which lasted until her demise in 2016. Iole became emeritus professor, plastic artist, engraver, designer, watercolor artist, memoirist, a mother to several and a master to us all.
Iole was a visionary and an inventive woman. She presented her ideas through her work in numerous countries and also conceived large projects, such as the Ateliê Calcográfico Iole Di Natale and the Watercolor and Art on Paper Brazilian Association (Associação Brasileira de Aquarela e Arte sobre Papel). The colors and shapes used by Iole indicate a woman that saw life positively, regardless of obstacles.
One of Iole?s ground was Federico Panizza, her partner and enthusiast for 44 years. It is not unusual to find the couple, in Iole?s work, in their most private or even day-to-day moments. Federico heartily supported Iole?s work and they were the same for over four decades. In consequence, it was difficult, if not utterly impossible, to not relate Iole?s work with Federico and vice versa.
Iole was also an organized and distinguished observer, leaving to us her written thoughts to complete the understanding of her artworks, guiding us to the corners of her mind.
In fact, Iole?s work touch each and every one of us in a unique way, making it difficult to construe she or her work entirely. You should see with your own eyes every work produced by Iole Di Natale in order to achieve your own conclusion. In my private view, I believe that Iole made her best to express her ideas through eternity and to show that everyone carry special and unique messages to pass through the barriers of time. Iole used art as a vessel of her message, and it is through art that she will always be remembered.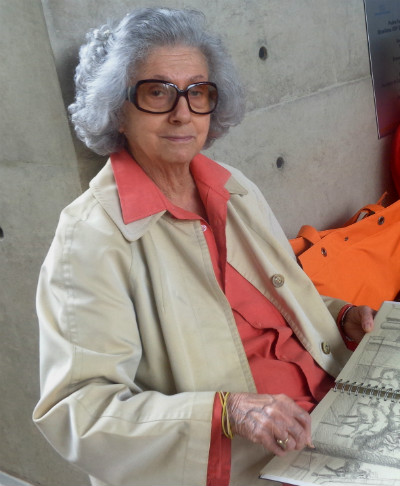 Iole Di Natale
Varese, Itália, 16/09/1941 - São Paulo, Brasil, 05/09/2016.